The Only Gun Belt That Passes All Tests Offering Comfort, Concealment, and Functionality to Today's Concealed Carrier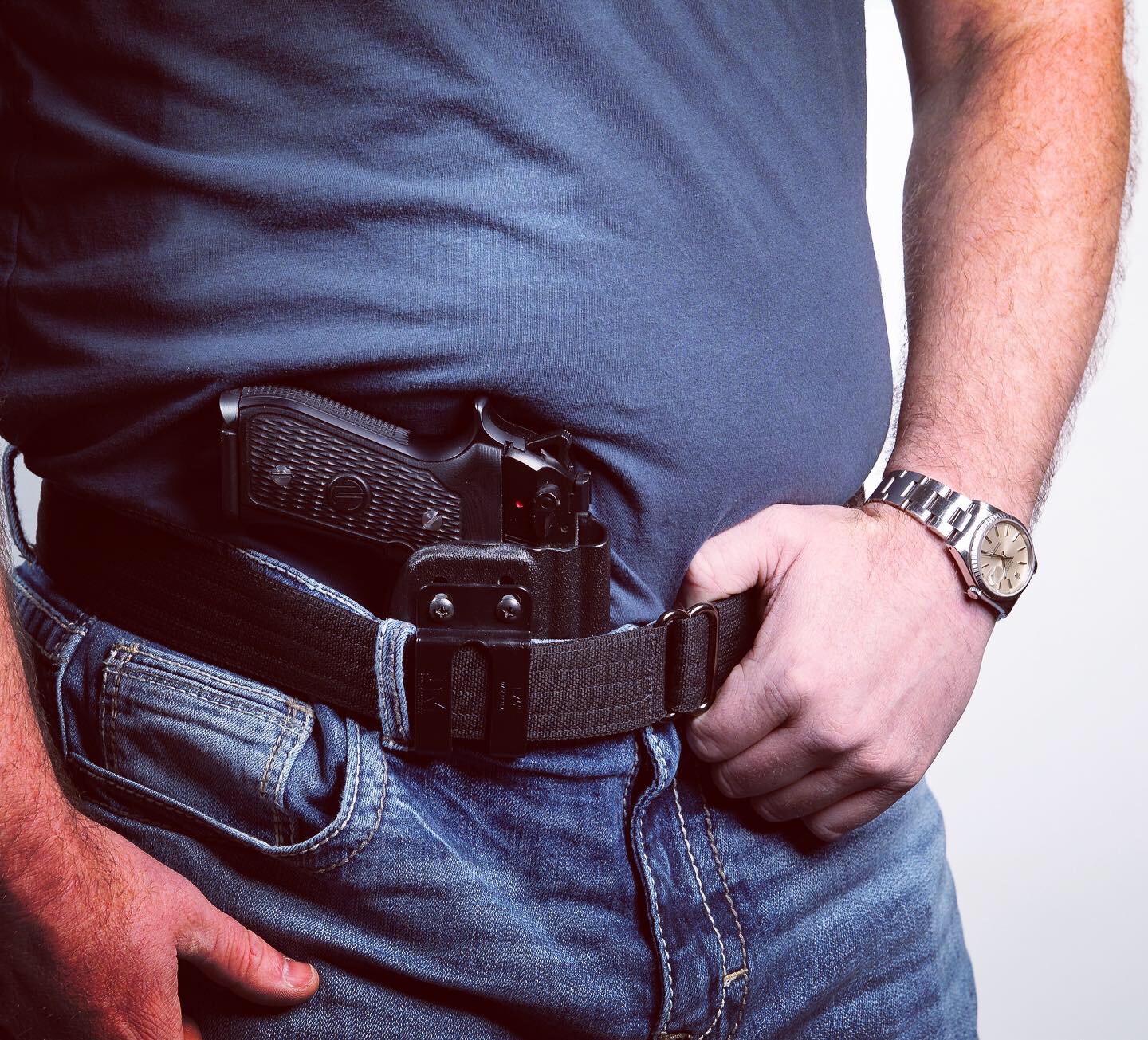 The EDC Foundation belt was designed for every day concealed carry. It is rigid enough to be effective but maintains a low profile to maximize concealment and comfort.
The Foundation Belt is Unique in Two Ways
First, it is purpose designed to be stiff enough to support the firearm and distribute it's weight but not too stiff anywhere on the belt.
Second, it is stiff where it needs to be, but not anywhere else.

Do you see it in the above picture? The very rear of the belt from about 5 to 7 o'clock in the waist the belt thins slightly.
It still offers support in that region but not nearly as much as other parts of the belt where you need to support the firearm.
This works really well because carrying a firearm at 6 o'clock isn't good for your back anyway AND because this is the point in the body where most of us don't have a very round or even flat shape. It concaves inward slightly and this extra flex at this point in the belt allows the belt to follow your natural body shape.
In the words of the belt's designer:
After carrying a pistol off-duty and concealed for over 16 years I was always on the hunt for a belt that combined function and comfort.  Several companies offer excellent belts which are made of very rigid materials.  These belts worked great for standing at the range for 8 hours, but the bulk of my day is seated in a vehicle or in my home office, and that's where I decided I needed more comfort.  
I ordered a sewing machine and materials and started prototyping belts with the help of my business partner.  We discovered that the bulk of carry belts on the market use a stiff material known as SCUBA webbing as their center stiffening layer which also means the belt won't mold or conform to the wearer's hips and creates a stiff non-flexing area across the lower back.  I wear a stiff equipment belt for work, which becomes more challenging with age, and I have lower back problems associated with years of police work.  
I set out to re-engineer a belt that would be functional for concealed carry and comfortable to the wearer.  I carry appendix off-duty so the need to have a low-profile buckle was paramount and the ability to thread the belt either direction was a necessity.  We designed a belt that places heavy SCUBA duty webbing only where you would mount a holster and a lighter webbing that extends across the lower back to allow the belt to form to the hips. The double-tapered end allows the belt to be threaded in either direction.
The Tri-Glide Low Profile Buckle
The Foundation Belt Features the Best Buckle In The Industry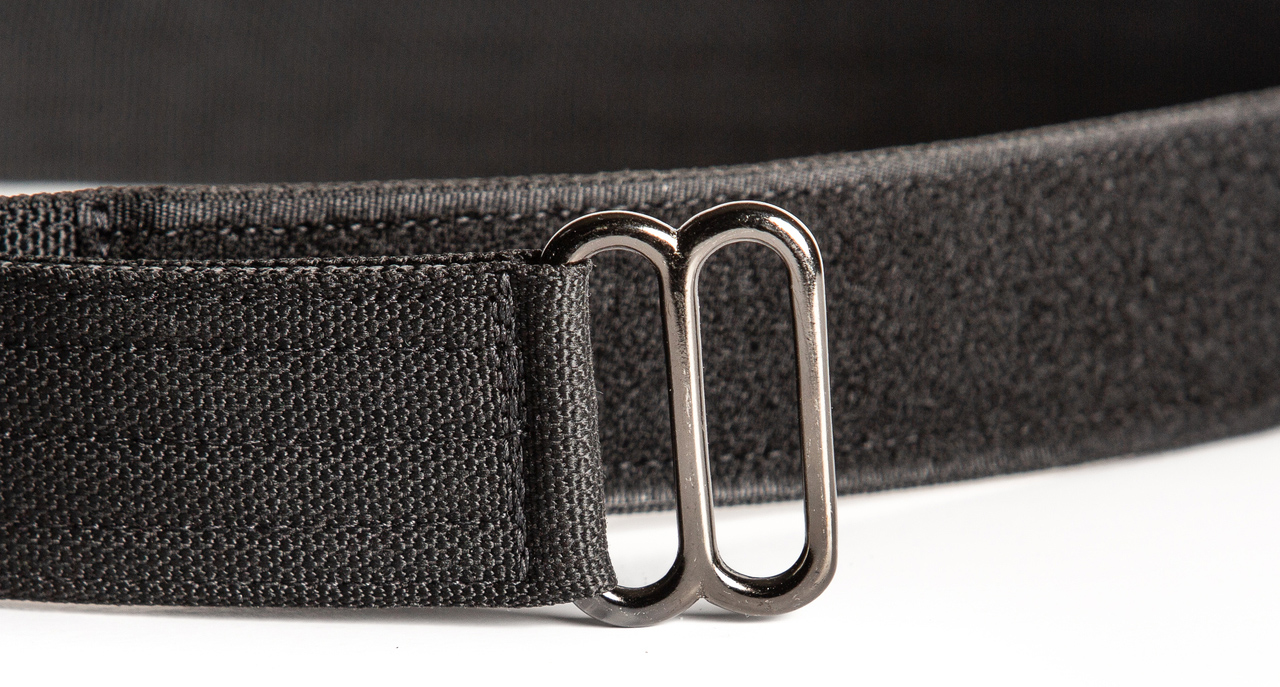 Easy to Adjust, even on the go. The Tri-Glide buckle allows for quick and easy adjustments as great or as slight as you need High Concealment. The Tri-Glide buckle is slim and low-profile to minimize potential printing
"The Foundation Belt" from EDC Belt Co, LLC is 1.5″ and made for conceal carry out of Cordura and reinforced nylon webbing, in all of the right places, with a Tri-Glide low profile buckle. The Foundation Belt, by EDC was built to be a functional and comfortable belt for concealed carriers.
It is a double taper cut, made with 5 rows of stitching to be comfortable, conform to the wearer and to keep the belt from rolling back and a non-reinforced tag to allow the belt to be fed through the pant loops from either direction. It has a combination of softer materials and SCUBA webbing that only places heavy non-flexible SCUBA webbing in the areas you should wear a holster – from appendix to strong side on the nontag side and under the loop tape portion for running the tag through holster loops.
What Do The Professionals Think?
"It is by far the most comfortable concealed carry belt I've worn ever. A concealed carry belt needs to be rigid so that it controls the magazine and pouches but the problem with a rigid belt is it starts to get really uncomfortable when it sits down on your sciatic nerve. What they did here is they put the scuba webbing in the right places but left it flexible in the other places so the belt can conform to your body and be a lot more comfortable."
Ernest Langdon has over 30 years of experience in the firearms industry as a business professional, firearms instructor, and gunsmith. Having spent 12 years of active duty in the United States Marine Corps, Langdon served in Panama, Cuba, the Philippines and the Persian Gulf. Ernest is a California POST Certified Firearms Instructor and graduate of 40 formal shooting schools and 4 anti-terrorism schools with instructor certifications from the FBI, NRA, US Army, US Marine Corps. ​Ernest has over 25 years of competitive shooting experience and has a Grand Master rating in USPSA (United States Practical Shooting Association) and is a Distinguished Master in IDPA (International Defensive Pistol Association) with 10 National Championships and 2 World Speed Shooting Titles.
Mickey Schuch is the principle and owner at "Carry Trainer" and is a firearm instructor, for Pistol, Rifle, Shotguns, Personal Protection Inside the Home and Personal Protection Outside the Home, a Range Safety Officer and a member of Illinois Tactical Officers Association.
He is a graduate of Massad Ayoob Group, Midwest Training Group, Tac Med Essentials, as well as many others. Personally he attends over 160 hours of training per year as a student in courses covering topics such as battlefield medicine to long range precision rifle with some of the best and brightest instructors in the world.
"Very simplistic belt. It has a very low signature. Why is that important? Because as we add more stuff […] I don't want more bulk under my clothes.
This is as thin as you're going to go and not use the rigidity and support that you need. Its really easy to use, no buckles I have to take off or anything like that. Two thumbs up on this belt. I would highly recommend it for a concealed carrier."
"Solid belts, very well made, they have become my go-to. They also made great under belts for wear under a cop duty/gun belt."
Chuck Haggard has been active in private defensive training throughout his long career in urban law enforcement. After nearly thirty years of steady upward progression through the ranks of the Topeka Police Department, he ventured out on his own to pursue private training on a more regular basis. Chuck maintains his POST certification and stays active in the law enforcement community, but he now devotes even more time to training other police officers, military personnel, security forces, and private citizens on the art and science of personal defense.
Paul Sharp has spent his life working within the parameters of self defense. He is one sixth of the ShivWorks Collective, which is a group of 6 independent martial arts instructors that deal with real world self defense. Paul has extensive knowledge in edged weapons training, firearms training and tactical defense training. Paul is a recognized instructor in Fist-Fire Shooting System as well as a firearms and tactical instructor out of The Site Training Centre. Paul has a knack for developing systems as he created the REV Pistol and REV Home Defense systems, which deal with realistic expectations in violence.
Paul Sharp is a retired Illinois Police Officer with over 20 years of experience on the force. His assignments included; Patrol, SWAT, resident officer, undercover narcotics detective and neighborhood response officer. Paul is also responsible for developing one half of the internationally recognized ISR Matrix System for subject control. He has achieved internationally accredited fame for the development of the systematic approach to the integration of MMA and weapons training. Paul has featured in national and international magazines in conjunction with the ISR Matrix System, which is applied to many personnel working in weapons based environments like; Police, Navy Seals, Military and private citizens.
I've been wearing the EDC Belt Co Foundation Belt on a daily basis for a few weeks. During this time I've been intentionally carrying much more gear than I normally would just to see if it's possible with this belt. ⁣
⁣
Not only is it possible, it's quite comfortable and well concealed due to the unique design of this belt. Jill Sharp and I recently embarked on a road trip that crossed 8 states, and involved 36 hours in the car. I thought this would be a great test. I decided to carry a Boresight Solutions Glock 41, plus two spare mags, A Shiv Works Clinchpick and full size pushdagger under a t-shirt. Also POM Pepper Spray and a Spyderco folder in my pockets. ⁣
⁣
Do I carry that much stuff everyday? No. ⁣
⁣
Do I regularly carry that much stuff for 36 hours nonstop? No. ⁣
⁣
Was it a fun test that the Foundation Belt easily passed? YEP. The EDC Belt Co Foundation Belt is the best belt I've ever used. ⁣